When I was in my late teens and early twenties there was a crepe restaurant in my town called The Magic Pan. It was elegant. It was classy. It was impressive. I only ate there a couple of times, but I still remember it. I remember that I felt grown-up and sophisticated while there.
About that same time, I was working for a local department store and asked to test a product--a crepe maker. I was so excited! I could hardly wait. It was, as I recall, a convex, Teflon coated disk attached to something similar to a hot plate. Imagine a pin cushion the size of a salad plate weighing about five pounds with an electrical cord undulating from one side. The trial did not go well. It made a huge mess all over the counter and was very difficult to clean because you could not get the base wet.
I never again tried to make crepes and do not think that I have eaten them since. Until today.
I got a recipe from a member of an online community to which I belong, which was certainly very basic. I also consulted an Alton Brown recipe and a couple of others because the cooking instructions were so vague. I wound up working on a trial and error basis when it came to the cooking temperature. But all and all, they were easy. Why would anyone think that an appliance would be better than a simple pan and stove? And seriously, who has the storage for such things?
I used my 8" Calphalon non-stick skillet. No fancy pans or appliances.
I was told to plan on throwing away the first one and that was the case.
But, the rest came out perfect!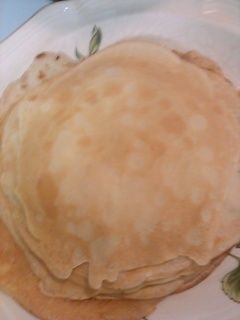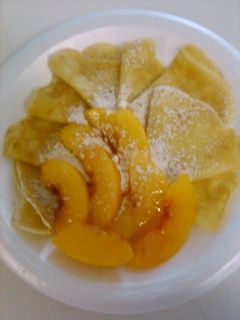 Basic Crepes
1 cup all purpose flour
2 tsp sugar
1/4 tsp salt
1 cup milk*
1/2 cup water
2 tsp melted butter
2 large eggs
Whisk together flour, sugar, and salt. In a separate bowl, whisk milk, water, eggs, and butter to combine. Add to flour mixture and stir well. (You can use a blender for this, but mine is on the fritz.) Cover and refrigerate for 1 hour.
Here is where the trial and error came in...
Alton Brown says to butter the pan. Since there were no cooking instructions with the recipe, I tried this. Don't. Heat the pan on medium heat and pour 2 tablespoons of the batter into the pan. Swirl it around to fill the pan. Cook for approx 30 seconds and flip. Cook another 10 to 15 seconds. Slide crepe out of pan and onto a flat surface. Repeat.
This recipe makes 16 (not including 1st and last) and each crepe is 41 calories. I served these with sliced peaches and dusted with confectioner's sugar. Alton Brown's basic recipe did not include sugar, but adds sugar for sweet crepes. For savory crepes, he suggests adding fresh herbs, sun-dried tomatoes, or spinach. Herbs sound yummy, don't they?
I laid these flat on baking sheets and froze them before placing them in storage bags and tossing them back in the freezer for another day. I may try some Crepes Suzette one day, because I love to set food afire.
*I used whole milk, but probably 2% would be okay.