I saw this lovely cake on FaceBook and decided that I could make it.
So I looked around for the right cake and frosting recipes to suit me. I found a recipe from Smitten Kitchen for a basic yellow cake and a recipe on a cooking board for a vanilla buttercream. Then began the search for the candy. I finally had to suck it up and go to Walmart to find the Rainbow Twizzlers ( I hate going to WallyWorld and try to avoid it if at all possible.)
The cake almost went into the fail column...note to self: verify the size of your pans. I poured the batter into two prepared 9" cake pans but they were
not
2" deep. They looked like giant mushrooms when they came out of the oven. I was, however, able to trim away the lip of excess.
I am a timid baker and am always terrified of running out of frosting, so I was a bit stingy with the filling. And I almost panicked when applying the crumb coat. But, as always, I wound up with an excess of frosting. Why can't I trust the recipe?
There was a department store in my home town during my youth that had a bakery under the direction of an amazing German pastry chef, and they made the very best cakes. The basic birthday cakes had a cherry nut filling that I adored. I decided to try may had at that and used about 3/4 cup of the buttercream with some chopped maraschino cherries and finely chopped pecans. It was pretty good!
Once frosted, I set about applying the decorations. I am not going to lie...I got tired and the frosting was drying so my finished product is far less elaborate than the one on FaceBook, but I think that it turned out pretty good.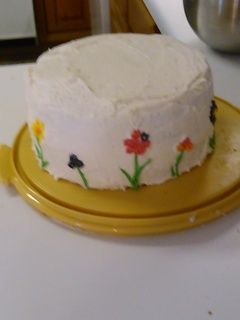 If you are interested, here are the recipes that I used:
Best Yellow Layer Cake
www.smittenkitchen.com
Yield: Two 9-inch round, 2-inch tall cake layers, and, in theory, 22 to 24 cupcakes, two 8-inch squares or a 9×13 single-layer cake.
4 cups plus 2 tablespoons cake flour (not self-rising)
2 teaspoons baking powder
1 1/2 teaspoons baking soda
1 teaspoon salt
2 sticks (1 cup) unsalted butter, softened
2 cups sugar
2 teaspoons pure vanilla extract
4 large eggs, at room temperature
2 cups buttermilk, well-shaken
Preheat oven to 350°F. Butter two 9-inch round cake pans and line with circles of parchment paper, then butter parchment. (Alternately, you can use a cooking spray, either with just butter or butter and flour to speed this process up.)
Sift together flour, baking powder, baking soda, and salt in a medium bowl. In a large mixing bowl, beat butter and sugar in a large bowl with an electric mixer at medium speed until pale and fluffy, then beat in vanilla. Add eggs 1 at a time, beating well and scraping down the bowl after each addition. At low speed, beat in buttermilk until just combined (mixture will look curdled). Add flour mixture in three batches, mixing until each addition is just Incorporated.
Spread batter evenly in cake pan, then rap pan on counter several times to eliminate air bubbles. (I like to drop mine a few times from two inches up, making a great big noisy fuss.) Bake until golden and a wooden pick inserted in center of cake comes out clean, 35 to 40 minutes. Cool in pan on a rack 10 minutes, then run a knife around edge of pan. Invert onto rack and discard parchment, then cool completely, about 1 hour.
Vanilla Buttercream Frosting
Restaurant Eve
This makes a generous amount of icing, so those with a not-so-sweet tooth may want to reduce the quantities or expect leftovers.
8 ounces (2 sticks) unsalted butter, at room temperature
2 pounds (7 1/2 -8 cups) confectioners' sugar
1 teaspoon vanilla extract
1/2 cup heavy cream, (may substitute whole, low-fat or nonfat milk)
Food coloring (optional)
In a stand mixer on medium speed, beat the butter until fluffy. On low speed, add the sugar in batches, increasing the speed to high after each addition is incorporated. Scrape down the bowl as needed. Add the vanilla extract and cream in a steady stream on low speed until incorporated. Add a few drops of food coloring, if desired. (Restaurant Eve uses red to make pink.) Beat on high speed for 8-10 minutes, until light and fluffy.
(And yes, I do see the note that says it makes a generous amount of icing.)
So, I hope to not see my attempt on the Pinterest Fail website one day.