Things are still crazy here, but I hope to do some cooking over the long, holiday week-end.
Last week-end, I was invited to a barbecue at my sister's house to meet her daughter's fiance. I was asked to bring a dessert, and I had always wanted to make an icebox cake. I reviewed recipes. Like everyone else, I had had the traditional version made with chocolate wafer cookies and Cool Whip, but had been intrigued by versions I had seen by Ina Garten and Martha Stewart that used chocolate chip cookies.
This beauty graced the cover of Martha Stewart Living a few years ago.
And this is in one of Ina Garten's cookbooks.
I took a look at both recipes and came up with my own. And here it is:
3 cups of heavy cream
8 oz marscapone cheese
1/3 c superfine sugar plus 2 tbs.
1 tsp vanilla extract
4 dozen chocolate chip cookies
Whisk together 2 cups of cream with marscapone cheese until soft peaks form. Add 1/3 c sugar and extract and whisk until consistency of buttercream frosting. Line the bottom of a 9" springform cake pan with a layer of cookies. Cover with 1/3 of cream mixture. Repeat. Final layer should be of cookies.
Cover well with plastic wrap and chill overnight. Whip 1 cup of cream with 2 tbs sugar and spread on top of cake. Remove side from pan, place cake on cake plate and serve.
Just a couple of notes: my friend Karen had given me some Grand Marinier extract a while back and I used that in lieu of vanilla and I used cookies from the bakery at Publix. Martha Stewart, of course, makes her own.
I did not get a photo before the hungry hordes had decimated it, but here is a pic of the last slice.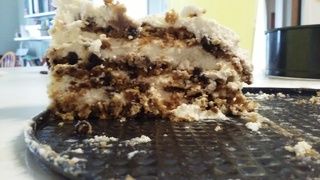 I kept thinking how wonderful this would be using oatmeal raisin cookies and by adding cinnamon to the cream mixture.
There is little left to be said but yum! If you are looking for a cool dessert for your 4th of July celebration, give this one a try.