I decided to make heart shaped marshmallows for my Secret Pal for Valentine's Day but could not find my heart shaped cookie cutter, so I went to Walmart early yesterday morning. While there, I remembered that I needed gelatin, which took me into the baking department and I had a sudden urge to make truffles.
My friend Karen had given me some Fiori Di Sicilia for Christmas and I decided to use it in the truffles. The combination of citrus and vanilla with the deep chocolate was lovely and reminded me of Terry's Chocolate Orange. I adapted a Pioneer Woman recipe for the truffles to intensify the chocolate flavor.
Chocolate Truffles with Fiori Di Sicilia
10 oz 60% cacao chocolate
6 oz semi-sweet chocolate
1 can sweetened condensed milk
1/4 tsp Fiori Di Sicilia
8 ox light chocolate melts
Sea salt
Place chocolate in double boiler over simmering water. As it starts to melt, add evaporated milk and blend until the consistency of marshmallow cream. Remove from heat and add Fiori Di Sicilia. Refrigerate for a minimum of 2 hour but up to 24. Roll into balls and place on a wax paper lined baking sheet. Place in the freezer for a minimum of 20 minutes. Melt chocolate and dip balls. Place on baking sheet and refrigerate.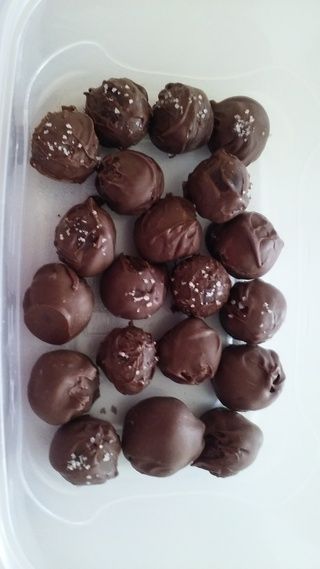 I sprinkled sea salt on half the recipe while the coating was still liquid.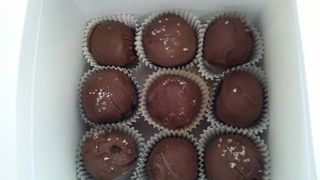 Packed and ready to go!