It's funny, isn't it, that life will roll, boringly, along when, BAM!suddenly you don't have a free minute. My life is normally filled with quiet nights at home, watching TV and playing on the internet. The past few weeks have been different. Very different. I have barely had time to sit down, much less do any cooking.
I was asked to help with a Ladies Tea at church, which happened last Saturday. It was a lovely event, if small, and very well received. We had various types of finger sandwiches, an assortment of teas, and an assortment of cookies.
I made Lemon Coolers. Much like the little cookies made by Sunshine in my youth.

Lemon Coolers
1/2 cup powdered sugar
1/3 cup sugar
1/3 cup shortening (I used butter)
1 egg
1/2 teaspoon vanilla
1/8 teaspoon salt
1 1/2 cups cake flour
1 1/2 teaspoons baking powder
1 tablespoon water (next time, I will use fresh lemon juice instead of water)
(I also added 1 teaspoon of lemon zest to the dough)
Lemon Powdered Sugar
1 cup powdered sugar
rounded 1/2 teaspoon unsweetened Kool-Aid lemonade drink mix (next time, I will try 1 teaspoon grated lemon zest)
Preheat oven to 325 degrees.
Cream together sugars, butter, egg, vanilla, and salt in a large bowl. Add the flour, baking powder and 1 teaspoon of lemon zest. Add 1 tablespoon of water (or lemon juice) and continue mixing until dough forms a ball.
Roll dough into 3/4-inch balls and flatten slightly onto a lightly greased cookie sheet (I used parchment-lined baking sheets). Bake for 15 to 18 minutes or until cookies are light brown.
As cookies bake, combine 1 cup powdered sugar with the lemonade drink mix (or 1 teaspoon of lemon zest, or both) in a large plastic bag and shake thoroughly to mix. When the cookies are removed from the oven and while they are hot, add 4 or 5at a time to the bag and shake it until the cookies are well coated. Repeat with the remaining cookies. Makes 4 dozen.
I also made a Victoria Sponge Sandwich cake using Mary Berry's recipe, which you can find
here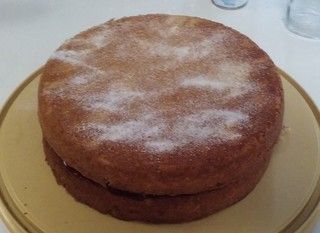 They were both perfect for tea.