I mentioned these before, when I made fried peach pies. I tried today to replicate my Aunt Alma's fried apple pies. Mine, of course, were different because I bought Sunmaid dried apples. Aunt Alma would pick apples from my Uncle Ed's trees. These were not pretty apples. They really were not fit to eat raw. They were knotty and spotted and hard. They were usually eaten by the farm animals...horses, cows, and goats.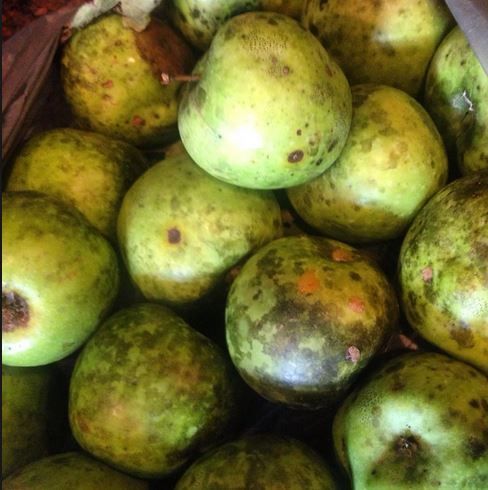 But, Aunt Alma would peel them, slice them thin, and place them on newspaper in the back of the car during the hottest part of summer to dry. Their car always smelled wonderful!
She would put the dried apples into the freezer and pull them out whenever the occasion called for dessert. She would make a biscuit dough and fill it with the apples, re-hydrated and cooked in sugar. They were pan fried, not deep fried, and always delicious...perhaps because they were made with love.
Filling:
2 bags dried apples
3/4 cup sugar
1/2 tsp cinnamon
3 tbs salted butter
Place the apples in a sauce pan and barely cover with water. Add sugar and cinnamon and bring to a boil. Lower temperature and simmer until apples are plump and soft, not chewy, stirring occasionally. This can take as long as an hour. Add butter and take off heat. Cool completely.
Dough:
2 to 2 1/2 cups self-rising flour
6 tbs shortening
3/4 to 1 cup ice water
Add shortening to 2 cups flour and work with hands until combined. Add water and mix well. Place on floured board and add flour if needed. Roll approx 1/8" thick and cut into a circle. (I used a saucer as a template.) Place filling in center, being careful to not over-fill. Apply water with fingers to edge of dough and fold over. Seal by pressing with a fork. Place in fridge for 10 to 30 minutes.
Place 4 tbs shortening and 2 tbs butter in iron frying pan and melt. Turn heat to medium high and place pies in hot oil. (I was able to fit 2 at a time in the pan.) Cook for approximately 3 to 4 minutes per side. Place on paper towel lined plate.
As you can tell, they will char if not careful. Not burned, but there is a char on them. It looks worse in the photo than it really is.
But they are very, very yummy. Aunt Alma would be proud.