On a recent trip to Trader Joe's, I picked up a bag of Meyer Lemons. They sat in the fridge, waiting patiently to be used, but I had neither the time nor desire to work with them until today. A day off. A day off with nothing else to do. No shopping, no meetings, nothing. So I pulled up Martha Stewart's recipe recipe for a tart.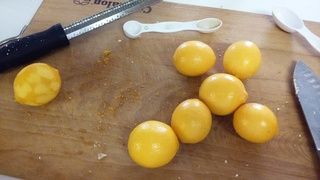 If you've never had a Meyer lemon, they are a cross between a mandarin and a lemon, and the filling is much milder and sweeter than a typical lemon curd. It's hard to tell from these photos, but the color is a golden yellow, much different from a plain lemon.
The crust is good enough to eat alone. Seriously, it's that good!
FOR THE CRUST
1 cup all-purpose flour
2 tablespoons sugar
Salt
1/4 teaspoon finely grated Meyer lemon zest
1 stick cold unsalted butter, cut into pieces
1/2 teaspoon pure vanilla extract
Make the crust: Whisk together flour, sugar, 1/2 teaspoon salt, and the lemon zest in a large bowl. Cut in butter with a pastry cutter or your fingers until dough begins to hold together.
Stir together 1 tablespoon water and vanilla, then mix into dough. Shape dough into a disk, and wrap in plastic wrap. Refrigerate for 30 minutes.
Using your fingers, press dough evenly into bottom and up sides of a 9-inch* fluted tart pan with a removable bottom. Freeze for 30 minutes. Preheat oven to 375 degrees and bake until golden, about 25 minutes. Let cool completely.
FOR THE LEMON CURD
2 large eggs plus 3 large egg yolks
1/4 cup plus 2 tablespoons sugar
1/4 teaspoon cornstarch
3 tablespoons finely grated Meyer lemon zest, plus 1/3 cup fresh Meyer lemon juice (from 3 lemons)
6 tablespoons unsalted butter, cut into small pieces
Make the lemon curd: Whisk together eggs, egg yolks, sugar, and cornstarch in a medium saucepan. Whisk in lemon zest and juice. Cook over medium-low heat, stirring constantly, until thick enough to coat the back of a wooden spoon, about 7 minutes. Remove from heat and whisk in butter, 1 piece at a time.
Pour filling into cooled tart shell. Bake until filling is browned, slightly puffed, and set, about 30 minutes. Let cool completely.**
*I only have a 10" tart pan, so I increased the crust by 1/4.
**I didn't let it get brown on top, but instead used the discarded egg whites to make a meringue. I spread it on top of the cooled tart and then ut it under the broiler until the meringue was a perfect shade light brown.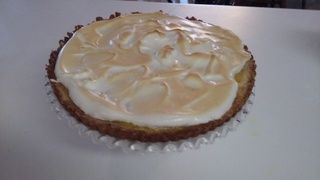 And the final product....